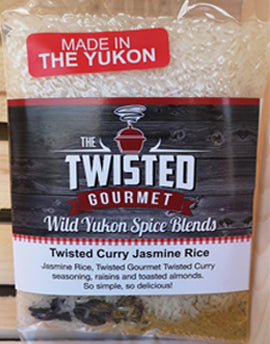 Small batch production of my seasonings ensures incredibly fresh flavours in both the spice packets and the side dishes. I dry fresh ginger for my Twisted Curry seasoning, and the flavour difference is unmistakeable. I hope you love this - it really is delicious.
Ingredients: Cumin, coriander, turmeric, jalapeno, ginger, sea salt
--
The Twisted Curry seasoning is warm, fresh, mild without heat but full of flavour, and the jasmine rice adds a floral touch to this incredibly fragrant and flavourful dish. Freshly roasted and ground spices blend with fresh-dried ginger and a touch of jalapeno peppers create a very accessible, family friendly blend. In the packet you'll find a small packet of roasted almonds, as well as unsulphured organic raisins - both delicious contrasts to the richly coloured, savoury, and fragrant rice.
Twisted Curry Jasmine Rice is an easy way to add a gourmet touch to your mid-week dinners; serve as shown for a side dish, or dress it up with cooked chicken and veggies for a hearty and satisfying meal. Cooking instructions on the packet- serves 4 as a side dish.