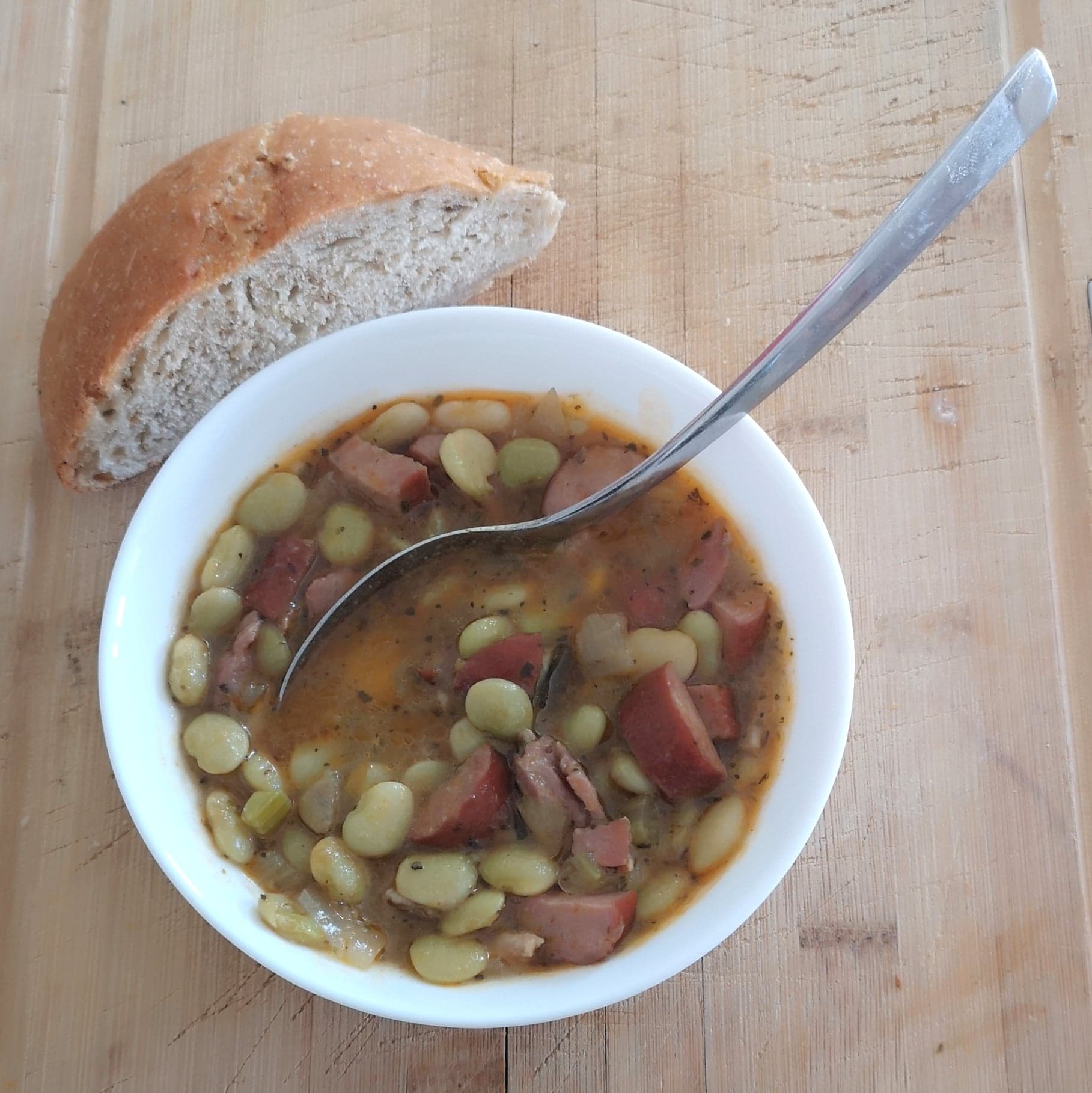 Cabin Fire Cajun Butter Beans
10 February, 2021
by

Deborah Turner-Davis
in

Blog
WAY North of NOLA, simple cajun cooking at its best! This delicious and easy recipe will help you create a hearty and satisfying meal sure to transport you to Mardi Gras in The Big Easy! 
Butter Beans are rich and creamy, smokey and perfect for cold winter days in the Yukon. This recipe uses lima beans, but cannellini or great northern beans will also work.
I left my heart in N'Orleans a couple of years ago. Since I can't go right now, I decided to cook up some cajun and creole inspired meals to warm my Yukon heart and belly.
One of my favourites is my delicious Twisted Gourmet Cabin Fire Cajun Butter Beans.  
What you'll need:
1 pound Lima beans (butter beans), cannellini or great northern white beans.
If you're using canned, drain and rinse 'til water runs clear 
If using frozen - thaw, rinse and proceed.
If you're using dried, soak the dry beans overnight in cool water at least twice the depth of the beans.
  NOTE: canned or frozen beans will require less water than soaked beans.
1-2 tablespoon butter (if using salted, taste as you go so you don't over salt)
1 cup diced onion
1 cup diced celery (use centre stalks WITH leaves)
1-2 cloves garlic, minced
1 tablespoon Twisted Gourmet Cabin Fire Cajun
seasoning
1/2 pound thick cut or slab bacon cut into 1/2 pieces (don't use salt pork)
1/2 pound smoked sausage (pork or turkey sausage is good - even smoked ham)
2 bay leaves, broken in half
2 Tablespoons fresh parsley, coarsely chopped or 2 teaspoon dried parsley flakes
2 sprigs of fresh thyme, 2" each or 1/2 teaspoon dried thyme leaves
1 tablespoon coarse salt (or 1 teaspoon fine salt, added incrementally. Your bacon/sausage and butter choices will impact how much salt you need to add)
Cracked pepper to taste
2 tablespoons butter
4-6 cups water (this will vary depending on whether your beans are dried & soaked, frozen or canned).
Prepare:
When beans are soaked/rinsed/ready, place in a cast iron Dutch oven or a large, heavy bottomed pot.
Melt butter in skillet over medium heat. Add onions and celery and let sauté slowly. You want to gently sweat and soften, not brown them. Add garlic and Twisted Gourmet Cabin Fire Cajun seasoning, stir and allow to bloom for another 2-3 minutes. Transfer to the Dutch oven.
Add bacon and sausage to the skillet you used for the veggies. Stir meat over medium heat for about 5 minutes or until some of the bacon fat has rendered out and the meat is hot but not crispy. Use a slotted spoon to transfer the meat to the Dutch oven and stir to combine all ingredients. 
Add fresh herbs, salt, pepper and enough water to cover all ingredients . Bring to a boil, then reduce heat and simmer for one and a half to two hours or until beans are soft to chew, but still have texture. Stir occasionally, add more water if the beans soak it all up. If desired, add another one or two tablespoons of butter while the beans are simmering. The beans will become very creamy, and the dish will have a lovely buttery texture.
Once the dish has finished cooking, serve immediately, or you can allow beans to cool for about 2 hours. When you're ready to serve, portion out the amount needed and reheat just that amount. Don't reheat the whole batch more than once and don't mix any re-heated beans back into the main portion; doing so will wreck the creamy texture of the dish.
If desired, (and with signed permission from your cardiologist) another blob of butter can be added when reheating the beans.
Serve with a scoop of hot cooked white rice in the centre of a bowl of steaming hot Twisted Cajun Butter Beans. Delicious!
Tags:
baked beans
,
beans
,
Butter Beans
,
cajun
,
cast iron
,
Creole
,
dutch oven
,
Mardi Gras
,
New Orleans
,
Recipe
,
Recipes
,
winter cooking