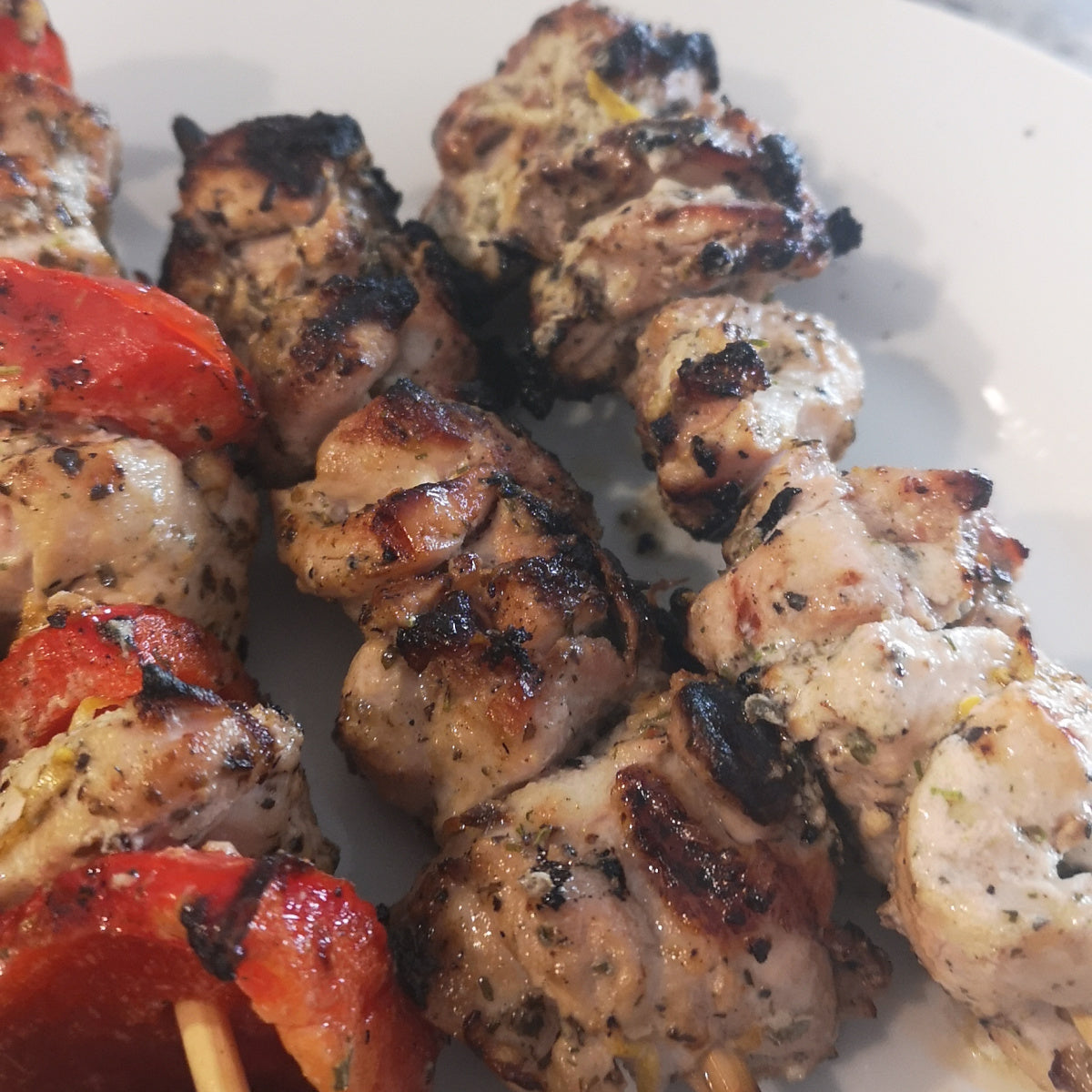 Wild Greek & Lemon Chicken Souvlaki
06 May, 2021
by

Deborah Turner-Davis
in

Blog
This is a delicious, flavourful and easy souvlaki recipe. It's got all the elements - tender moist chicken, great Greek flavour, a creamy sauce and the double goodness of garlic and a perfect lemony tang.
Serves 2
Ingredients:
1 lb boneless skinless chicken thighs
1 small tub plain Greek yogurt (100g)
1/4 cup olive oil
1 lemon – zest and juice
+/- 1 tablespoon lemon juice (fresh or bottled)
2-3 cloves garlic, finely minced
1.5 tablespoon Twisted Gourmet Wild Greek & Lemon seasoning
1 teaspoon Twisted Gourmet Kiss Me Baby seasoning.
1 good pinch kosher salt
1/2 tsp black pepper
Instructions:
If using wooden skewers, soak them for at least an hour (mine always catch fire on the grill!)
Cut chicken thighs into uniform pieces, about 1-1.5 inches.
Place cut chicken in a freezer bag. In a bowl, combine the yogurt and olive oil. Add the lemon zest and the juice of the whole lemon. Reserve additional lemon juice. Add garlic, seasonings, salt and pepper. Stir to combine well – taste, and incrementally add more lemon juice to achieve the level of acidity you prefer.
Pour HALF the marinade over the chicken in the bag and seal it up, massaging the bag to coat the chicken. Cover the reserved marinade and refrigerate, and let the chicken marinate in the fridge for at least a half hour, up to about 2 or 3 hours.
Oil the grill well and set the flame to medium. While the grill heats, thread the chicken onto the skewers without crowding them too much. Add chunks of red pepper between chicken pieces for a delicious touch. Be sure to brush the peppers with a bit of oil before you put them on the grill, and they'll blister up beautifully. 
Hold some of the reserved marinade back to use as a dipping sauce, and use the rest to baste the chicken as it cooks (NOT the marinade from the raw chicken)
Oil the grill well so the skewers don't stick. Place skewers on the grill and cook for about 15 minutes, turn often and basting now and again with half the reserved marinade. Don't worry if the chicken gets a bit dark at the edges – those will be your favourite bites.
Test with an instant read thermometer, and remove from heat when the chicken achieves an internal temperature of 165 degrees (160 if using chicken breasts). Let the chicken rest a few minutes and serve with a simple Greek salad and some lemony roasted potatoes.
Enjoy!