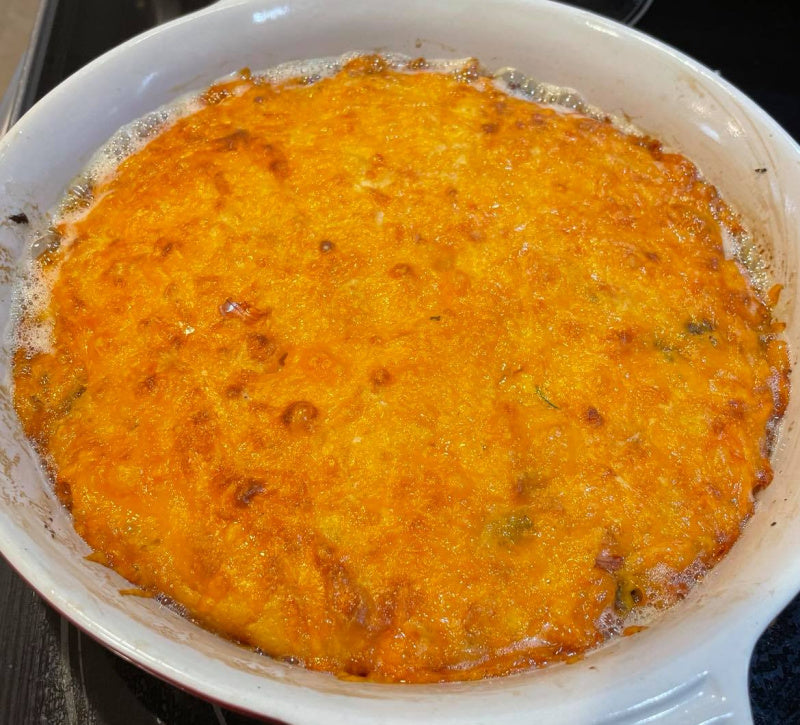 Cheeseburger Pie - Twisted Gourmet Style
22 June, 2021
by

Deborah Turner-Davis
in

Blog
Cheeseburger Pie is a classic - I loved it as a kid, I cooked it for my kids (they loved it), and maybe you can share the cheesy pie goodness with your friends and family too. This version is made from scratch (no biscuit mix), so it's lighter and fluffier, looks amazing and tastes delicious. The best thing is you can change it up to suit your mood and your pantry ingredients; feeling classic? Use Yukon Wild Morel seasoning along with Grey Mountain Wild Italian. Feeling like shaking up taco Tuesday? Try Hot Cheechako Seasoning with a 1/2 cup of salsa in the ground beef, and top with cilantro.
You can't go wrong. 
Serves  4-5
Ingredients:
1 pound lean or medium ground beef 
1 small onion, minced
2-3 cloves garlic, minced (or 1tsp Twisted Gourmet Kiss Me Baby Seasoning)
1 teaspoon Twisted Gourmet Yukon Wild Morel Seasoning
1 teaspoon Twisted Gourmet Grey Mountain Wild Italian Seasoning
1/2 teaspoon black pepper
1 cup shredded cheddar - or your choice of shredded hard cheese
For the Batter:
1/2 cup all purpose flour
1 teaspoon baking powder
1/2 teaspoon sugar 
2 tablespoons butter - cold.
good pinch of kosher salt
2 large eggs
1/2 cup whole milk
Instructions:
PREHEAT OVEN TO 400
In a medium hot saucepan, heat about 1tbsp olive oil. Saute onion a few minutes until softened, add garlic and seasonings and cook for about another minute. Add the ground beef to the pan and cook until no pink remains. 
Butter a 9" deep pie dish and transfer the beef with a slotted spoon to reduce fat. 
In a food processor, pulse dry ingredients and butter until the mixture resembles coarse crumbs. Add milk and eggs, and pulse just until all ingredients are combined. If you don't have a food processor, use a large bowl and grate in the cold butter, tossing with a fork to achieve a loose mixture with a similar consistency. Whisk eggs and milk, then add to dry ingredients and whisk until combined. 
Top the meat with about 1/3 of the cheddar, then pour the batter over top - don't stir. Top with the remaining cheddar. 
Bake about 25 minutes at 400 fahrenheit, or until a knife inserted in the centre comes out clean. 
This is a great simple meal with just a salad on the side. 
_____________________________________________________
*This recipe is my adaptation of several recipes from several sources (including the original on the side of the biscuit mix box!)  Please refer to Chowhound's Cheeseburger Pie recipe for detailed photo instructions, and for  their original recipe. 
Note: You can make it pretty - lay tomato slices atop the batter with the cheese, add jalapeno slices or olives - whatever delights you and your family. Add a few crumbles of feta cheese on the top and a sprinkle of fresh ground pepper - make it your new favourite dish.