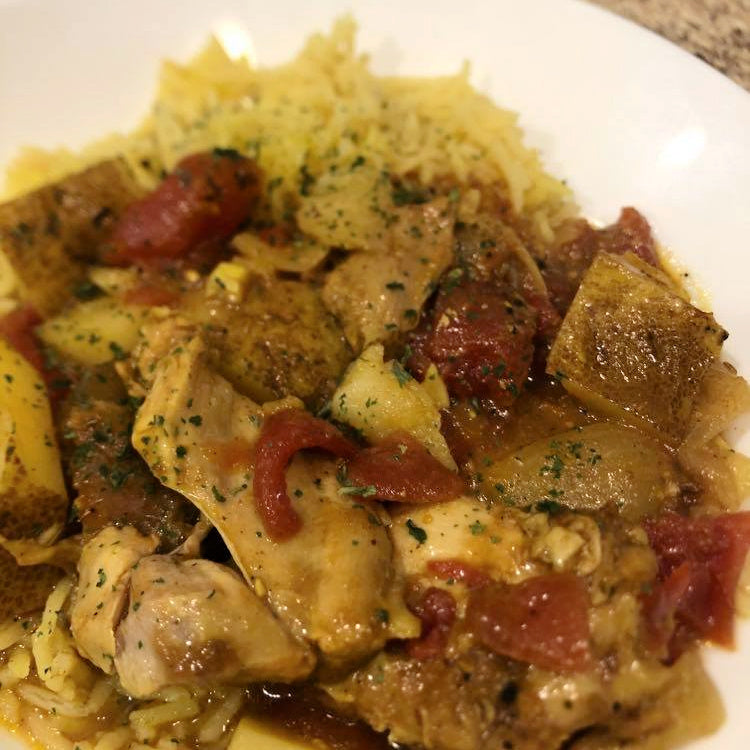 Cape Malay Curry Chicken with Rice
07 February, 2021
by

Deborah Turner-Davis
in

Blog
This is my ode to a delicious curry from the Bo Kaap or Cape Malay people of South Africa. This seasoning is warm, sweet, absolutely fragrant and complex and delicious. Try this wonderful dish - I hope it becomes a favourite. 
What you'll need for the chicken:
2 tbsp neutral oil
1 medium onion, finely chopped
4 cloves garlic, smashed
1 large red chili (optional), sliced lengthwise, deseeded and sliced
1 400g can diced tomatoes and liquid 
1.5 cups chicken stock 
 2 tbsp apricot jam or mango chutney (*you can omit the vinegar/lemon juice if using chutney)
*1 tbsp apple cider vinegar or lemon juice
10-12 boneless chicken thighs, skin removed
500g potato cut in 1 inch cubes
fresh cilantro 
For the rice:
2.5 tbsp butter

1/3 c 

raisins
2 tsp Twisted Curry seasoning
¼ tsp ground white pepper or black pepper
1 tsp brown sugar
1.5 cups basmati rice
3 cups water or stock 
How to Prepare:
Chicken:
Heat the oil in a large, wide pan. Add onion and cook for 5 minutes or so until softened. Add garlic and stir for a minute or two until fragrant. Add Twisted Gourmet Cape Malay seasoning, and stir to combine with onion and garlic. Add in sliced chilis and the tinned tomatoes with sauce. Stir together and add chicken stock, jam and vinegar or lemon juice, or chutney. When well combined, add chicken thighs, submerging them in the liquid. Cover the pan and simmer for 30-35 minutes. 
Add potatoes and let cook on medium low for another 15-20 minutes uncovered until the potatoes are fork tender. 
Prepare the rice: 
In a medium saucepan, melt butter and add the Twisted Curry seasoning, raisins, pepper and sugar. Combine well and add the rice. Stir 'til well coated with seasoning mixture and add water or stock. Bring to the boil, reduce heat to low and cover. Cook for 15 minutes and remove from heat. Allow to sit, covered, for 5 minutes then fluff with a fork and serve with the chicken curry. Top with coarsely chopped fresh coriander leaves.