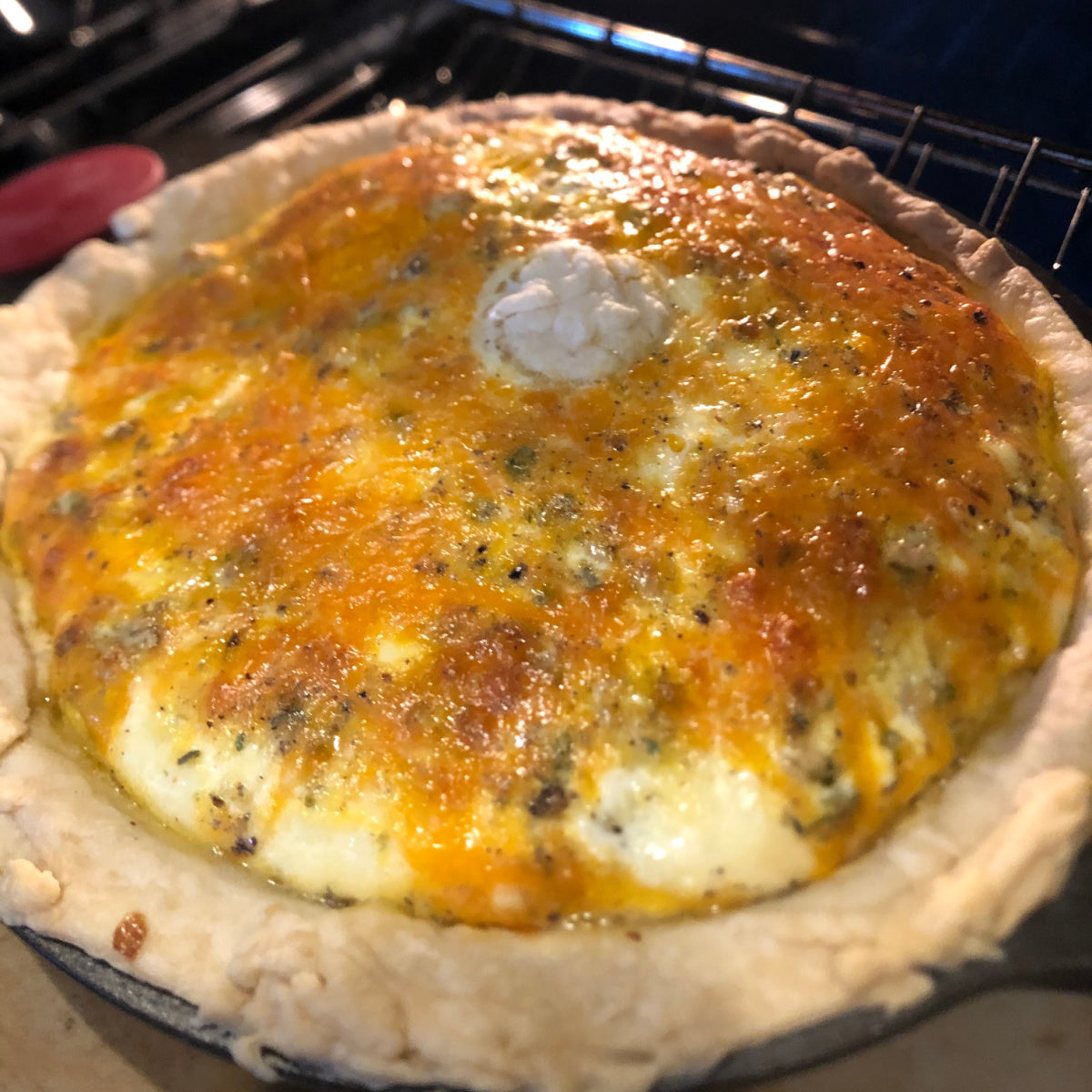 Marie's Twisted Eggy Cheesy Sausage Pie (Quiche!)
06 February, 2021
by

Deborah Turner-Davis
in

Blog
This recipe is my take on a recent submission from a great cook and repeat customer Marie. She cooks and distributes delicious meals for seniors in her community and feeds hungry workers in forestry camps. She sure knows how to whip up a satisfying and delicious meal! 
Give this a try - it's perfect for cold winter nights and makes a brunch that'll keep your crew going all day no matter what they're up to. You can even make individual tart sized minis to pack along as you adventure. 
What you'll need:

 1 uncooked pie crust (frozen or 10" scratch pastry or frozen *tart shells).
 
 1 lb ground pork or unseasoned pork sausage 
 1.5 Tsp Grey Mountain Wild Italian Seasoning 
 1.5 Tsp Bennett Lake Seasoning
 1.5 Tsp Kiss Me Baby Garlic Seasoning

 1.5 cups shredded sharp cheddar cheese.
 1/2 small yellow onion diced (or leek, chives, green onions, shallots - use what you have)
 
  4 eggs
  1.5 cup half and half or whole milk
  1/4 tsp salt (I used Twisted Gourmet Rosemary Salt)
  1/2 tsp black pepper
Instructions:
Preheat oven to 425 degrees.
Brown meat, incorporating seasonings, salt and pepper. Drain in a wire sieve over a bowl to get rid of the fat - at least 5 minutes draining.
Roll pie crust into pie pan or quiche dish. Gently press into pan, repairing any tears with scraps of pastry.  Layer the pie crust with sausage, onion and cheese.

In a bowl, whisk the eggs, add half and half and seasonings and pour egg mixture over ingredients in the pie crust.

Bake in preheated oven for 15 minutes, then reduce heat to 350 degrees and bake for an additional 30 minutes. (*If cooking mini quiche in frozen tart shells, follow package instructions). If a knife slides in and out cleanly, and the top of the quiche is a nice golden brown, remove from the oven.

Allow to sit 5-10 minutes before serving. Enjoy!