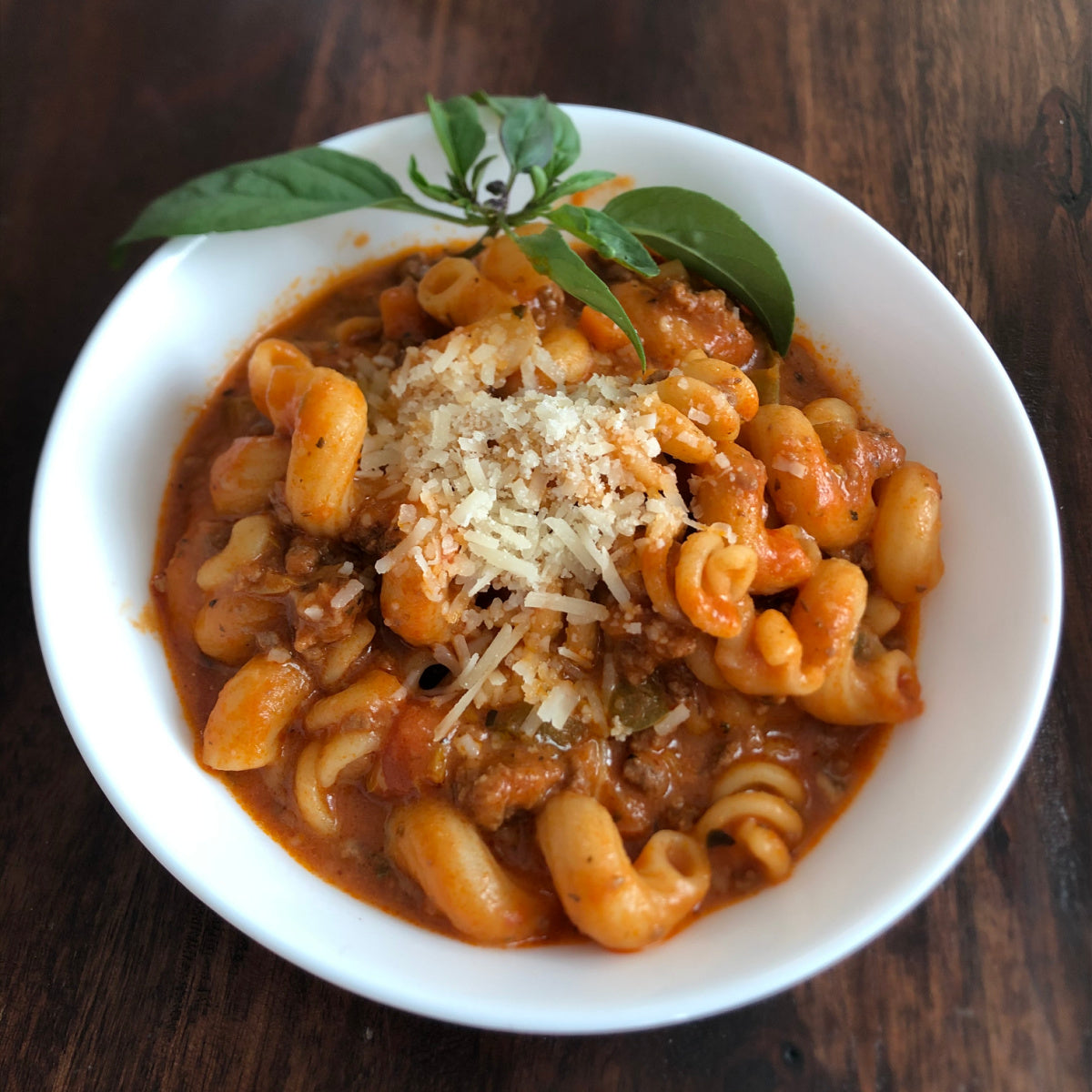 Grey Mountain Goulash
06 March, 2021
by

Deborah Turner-Davis
in

Blog
When you think of comfort food, what comes to mind? For me, it often features cheesy pasta with a rich and delicious sauce - somehow that combo shoots straight to the heart of my childhood memories and makes me all kinds of happy. 
I thought I'd share a favourite with you - something I'm calling Grey Mountain Goulash*. It hits all the notes I need to satisfy my comfort food cravings (well, except chocolate - but that would just be weird) 
Serves 4-6
What You'll Need: 
2 Tbsp olive oil
1 lb lean ground beef (could substitute with mild or hot italian sausage too)
1 Tbsp Twisted Gourmet Grey Mountain Wild Italian Seasoning
1 Tbsp Twisted Gourmet Yukon Wild Morel Seasoning (or Kiss Me Baby, or a mixture of both!)
1/2 tsp coarse salt
1 tsp ground black pepper
1 medium onion, minced
2-3 cloves garlic, minced
1 rib celery, minced (chop and use the leaves too)
1 medium carrot, minced
1 green pepper, chopped
8-10 cherry tomatoes, halved.
1 jar passata or simple tomato sauce (not seasoned)
1 tbsp tomato paste or harissa paste
2-3 bay leaves
1 L carton of stock - I used a veggie stock, but use what you have on hand
1 cup water
250 - 300 grams of good ridged pasta - I like the spirals, as they hold the sauce beautifully.
1/4 block of herb boursin cheese (omit if you don't have it ... it was in my fridge so I tossed it in for creamy goodness)
1 cup grated sharp cheddar cheese
1/2 cup grated parmesan cheese
salt and pepper to taste

How to Prepare:
Heat olive oil in a large saucepan and saute onions, celery and carrot until the onions soften and the liquid is released. Add garlic and green pepper, stir for a couple of minutes. Remove vegetables and brown the ground beef. Add seasonings to the ground beef and return the veggies to the pot, adding the green pepper and tomato halves. Stir to combine, and cook over medium heat for two or three minutes. Add the tomato sauce and harissa paste and reduce heat to simmer. Let this sauce combine and simmer for about 15-30 minutes, adding a bit of stock if it's thickening up too much. Be sure to mind the heat, and stir it often as you don't want it to stick to the bottom of the pan. 
Once the veggies have softened and the ingredients have melded to become a nice thick sauce, add the stock and water and bring to a boil. Add the pasta and once it's come back to the boil, reduce heat to 2 or 3 and cover. Let this simmer for about 12 minutes - stirring OFTEN and keeping a close watch to make sure it's not scorching on the bottom. Once the pasta is cooked, remove the lid and reduce for a few minutes if still soupy. Stir in the boursin and cheddar. Add 1/2 of the parmesan, and let this all come together as a nice rich creamy cheesy tomato sauce. Serve and top with remaining parmesan cheese and a few cracks of pepper.
You can serve this alongside a nice crusty loaf of bread, and look forward to leftovers, should you be so lucky. 
*Hungarian goulash is a different dish, rich with veggies and meat and a paprika seasoned sauce - but in my world growing up, this was goulash.
All the best,
Deborah