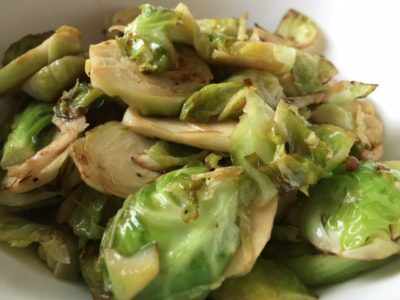 Lemon Dill Brussels Sprouts
21 October, 2020
by

Deborah Turner-Davis
in

Blog
Brussel sprouts, unfortunately, have a very bad reputation. These little green veggies are often served bland, too soft or too hard, and among other sides that take the lead. But what if I told you that Brussels sprouts can be crispy flavour bombs? Make this recipe and let me change your mind! Featuring The Twisted Gourmet Lemon Dill salt, and allowing the Brussels sprouts to get really nice and crispy, you create a side that actually may steal the show. 
Ingredients:
1lb Brussels sprouts
3/4 tsp The Twisted Gourmet Lemon Dill Salt
1/2 lemon, juiced
1 tbsp lemon zest
1 tbsp vegetable oil
1 small garlic clove, sliced thinly
1-2 tbsp water
freshly ground black pepper
Method:
Wash, dry and slice sprouts Toss with salt, add freshly squeezed lemon juice & zest. Allow to rest for 1-2 hours.
Peel and slice garlic clove. Heat oil in wok over medium high heat, add garlic. Do not brown garlic, but allow the flavour to infuse the oil.
Add sprouts and any liquid in bowl. Stir-fry at medium high heat until sprouts are nicely browned & slightly softened. Squeeze a bit of lemon juice over top as you cook. Add 1 tbsp water to pan and steam fry for another minute or so. If sprouts still very undercooked, repeat water/steam fry once more.
Top with fresh black pepper & serve.
Tags:
brussels sprouts
,
Category_Uncategorized
,
dill
,
infused salts
,
lemon
,
recipe
,
sauté
,
seasoning
,
side dishes
,
spice blend
,
Twisted Gourmet
,
vegetables