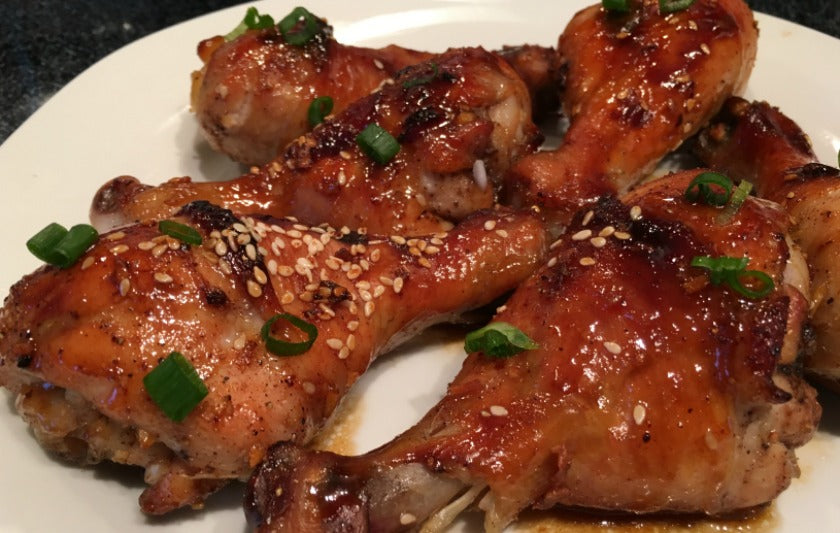 Twisted 7 Sticky Drumsticks
21 October, 2020
by

Deborah Turner-Davis
in

Blog
I often forget about chicken wings. How good they are, how easy they are to prepare, and how delicious they can be. But enough is enough! Chicken wings are a cheap choice, and can be ultra delicious. This recipe features Twisted 7 Asian spice blend, loaded with fennel, star anise, and Vietnamese cinnamon. Delicious on roasted veggies, stir fry, and -you guessed it- chicken wings. Make ahead to to allow the wings to marinade, pop them in the oven, and you're done! 
Ingredients:
1/s cup honey, warmed
16 chicken drumsticks (skin on or removed as you prefer)
1 teaspoon Twisted 7 Asian spice blend
1 garlic clove, crushed
1 tablespoon fresh ginger, minced
1 tablespoon orange juice
1 tablespoon soy sauce (I used sodium reduced)
1 tablespoon sesame seeds
green onions, chopped, for garnish
Method:
Preheat oven to 400 degrees F.  Combine all ingredients except drumsticks & sesame seeds. Marinate chicken for 2 hours.
Remove chicken from marinade and reserve the marinade for basting. Place chicken in a single layer in a casserole dish lined with parchment paper; baste with reserved marinade and sprinkle with sesame seeds.
Bake for 40 minutes, basting again after 20 minutes. Garnish with green onion and enjoy!
Tags:
Asian
,
blend
,
budget
,
Category_Uncategorized
,
chicken
,
drumstick
,
easy
,
family dinner
,
ginger
,
honey
,
recipe
,
soy sauce
,
spice
,
Twisted 7
,
Twisted Gourmet
,
Whitehorse