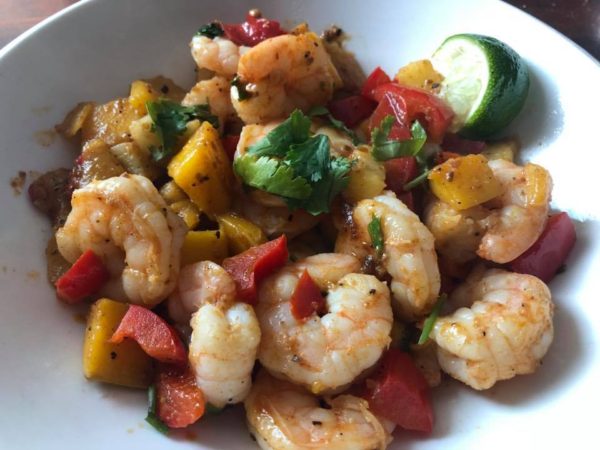 Mango Cheechako Taco Shrimp
21 October, 2020
by

Deborah Turner-Davis
in

Blog
Picture this: you're planted on a beach chair in Sayulita, Mexico. Waves are crashing, cold beer in hand, skin hot from the sun. To top it off, a dish of tasty tacos are placed in front of you loaded with zesty lime shrimp, fresh mango and pineapple, and cilantro. Sounds pretty great, hey?
Unfortunately, I can't promise you this dish will indeed transport you to a different country. However, I can guarantee this dish will confuse your tastebuds for just a brief moment, long enough to imagine the sound of the waves and feel the sand in your toes. Loaded with tartness from fresh lime juice, sweetness from mango and pineapple, and a touch of heat from the seasoning, whip this dish up in under 25 minutes when you need to get away. 
Ingredients:
12-15 peeled, deveined raw shrimp
1-2 tsp Twisted Gourmet Cheechako Taco seasoning
2 tbsp vegetable oil
1/2 of a medium-large sweet red bell pepper, sliced
1/2 diced ripe mango, cubed
1/2 cup diced ripe pineapple
handful of fresh cilantro, chopped
1/2 lime, juiced, lime wedge for garnish
Method:

Heat oil in frying pan over medium high heat. Add bell peppers, sauté for 2-3 minutes until soft.
Add Cheechako Taco seasoning, stir until spices bloom.
Add mango, pineapple and shrimp. Sauté, stirring frequently. 
Squeeze lime over pan while cooking, and add about 1/2 your chopped cilantro. Sauté for a few minutes until shrimp is opaque and firm, and vegetables and fruit are nicely softened and have released their juices.
Serve over rice, in tacos or solo - make it a salad, serving over spinach and chopped iceberg.  Garnish with more cilantro, a slice of lime, and your favourite hot sauce. Healthy, quick and really really delicious. See you at the beach!