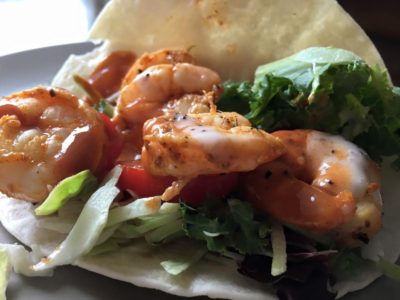 Spicy Shrimp Cheechako Tacos
21 October, 2020
by

Deborah Turner-Davis
in

Blog
Taco Tuesday, anyone? These Spicy Shrimp Tacos can be mild, spicy, or extremely hot- it's up to you! Personalize your tacos however you desire, but don't skip out on the Avocado Crema! The creamy sauce adds a unique flavour and texture to the tacos. Pull this out at taco night and everyone will be having thirds! 
 Ingredients: 
12 shelled uncooked shrimp, thawed, rinsed & drained.
2 tsp (or more, if desired) Twisted Gourmet Cheechako Taco* seasoning blend
1 lime (cut in half)
1 tbsp safflower oil (or other neutral oil)
4 soft small tortillas, flour or corn as you prefer
Avocado Crema:
1/2 cup sour cream (plain yogurt also works well)
1 ripe avocado, halved & pitted
pinch of salt
Method:
Shrimp: In a bowl, sprinkle thawed, rinsed & drained shrimp with Cheechako Taco seasoning blend. Add juice of 1/2 lime and oil. Stir and allow to sit for about 15 minutes. If marinating longer, store in the fridge until ready.
Either turn oven broiler on high or turn on outdoor grill. If using broiler, line a baking sheet with parchment or foil. Place shrimp on pan and place about 6" beneath broiler burner. Cook 6 minutes, turning after 3 (keep an eye on them; they should be cooked through but not overcooked). If using outdoor grill, thread shrimp onto two skewers and baste with oil before placing on the grill. Cook a few minutes on each side, taking care not to overcook.
Crema: Scoop flesh from avocado and put in a food processor. Add the sour cream and juice of the remaining lime half. Add a pinch of salt and blend until smooth. If it's not thin enough, add a bit of sour cream.
Tortillas: Brush tortillas lightly with oil and place on oven rack beneath broiler, turning after a few minutes. Remove from oven when heated through and bubbled slightly.
Serve shrimp in warm tortillas with chopped cabbage slaw, chopped tomatoes and the Avocado Crema. Serve with a nice salsa and an ice cold beer... perfect!
*Try with Southern Gentleman if you don't like heat! My daughter doesn't eat seafood, so I also made this recipe using thinly sliced beef, pan fried after marinating... also delicious!
Tags:
blend
,
Category_Recipes>Meat Dishes
,
chilli powder
,
chillis
,
chipotle
,
fajita
,
heat
,
jalapeño
,
mexican
,
recipe
,
seasoning
,
southwest
,
spices
,
spicy
,
taco
,
taco tuesday
,
Yukon