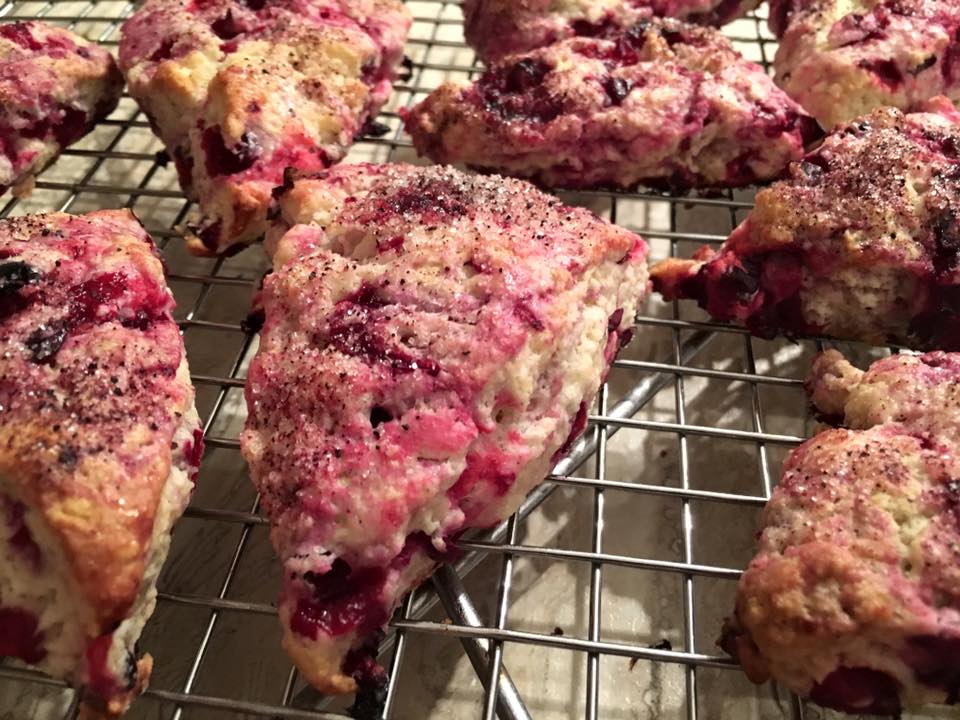 Vanilla Cranberry Scones
21 October, 2020
by

Deborah Turner-Davis
in

Blog
Oh my GOODNESS! These light and lovely scones are quick to make and even quicker to eat! I've taken a few of my favourite scone recipes from over the years and blended & tweaked them using my own favourite tricks and Twisted Gourmet sugars. This scone recipe features locally picked high-bush cranberries, but can be substituted with other berries. Best served warmed & buttered. You're going to like these!
Ingredients:
1 3/4 cups all purpose flour
3 tbsp white sugar, plus 1 teaspoon 
1 tbsp Twisted Gourmet Yukon Wild Cranberry Sugar
2 1/2 tsp baking powder
1/4 tsp salt
3/4 cup unsalted butter (chilled or frozen)
3/4 cup wild Yukon low-bush cranberries (other berries can be used, of course)
1 egg
1 tsp pure vanilla extract OR vanilla bean paste (I use President's Choice Madagascar Bourbon Vanilla Bean Paste)
4-6 tablespoons half-and-half cream, plus 1 tsp
Method:
Preheat oven to 400 degrees F.
Combine flour, 3 tbsp of white sugar, baking powder and salt in a large bowl.
Add butter, either frozen & grated (my preference) or chilled & cut in with a pastry blender until the mixture resembles coarse crumbs.
In another bowl, toss wild cranberries with 1 tsp sugar. Add berries to flour/butter mixture.
In a small bowl, beat 1 egg. Add vanilla extract or vanilla bean paste. Add egg mixture and 4-6 tablespoons (as needed) of half & half cream to the flour/butter/berry mixture until the mixture is moist enough to pull away from the edges of the bowl.
TURN dough onto lightly flowered surface. Knead gently 8-10 times. The berries will explode in a very dramatic fashion, staining the dough, your hands and work surface.... be ready (this is exactly when the doorbell will ring... happens every time).
Press or roll dough to about 1/2 inch thick. I prefer to make a long rectangle of dough, cutting it into small triangles. You can cut circles with a biscuit cutter, creating one large circular scone which you slice into wedges before baking, whichever you prefer.
Lightly brush tops of scones with 1 tsp half-and-half. Sprinkle with Twisted Gourmet Yukon Wild Cranberry Sugar. Bake 11-14 minutes until golden brown. Baking time will depend on size of scones. Serve warm with butter for maximum yum.