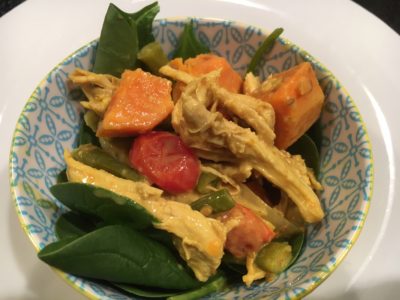 Twisted Turkey Veggie Curry
21 October, 2020
by

Deborah Turner-Davis
in

Blog
This mild, simple curry dish is delicious, hearty, and flexible. Use listed vegetables or substitute anything you have on hand. Perfect for chilly nights when you want something filling and quick! Serve over rice with naan, or over greens to comply with a Whole 30 diet. 
Ingredients:
2lbs turkey, poached and shredded (can sub shredded chicken)
1 tbsp neutral vegetable oil
2 tbsp Twisted Curry seasoning blend
1 medium onion, chopped
12 halved cherry tomatoes, or 4 roma tomatoes coarsely chopped
1 can full fat coconut milk
1 sweet potato, peeled and cut in 1 inch cubes (I recommend pre-cooking the sweet potato in the microwave for about 2-3 minutes first, to get to the finish line faster. )
handful of fresh green beans, 1 inch slices
Method:
In a deep skillet over medium heat, heat oil. Add Twisted Curry seasoning and sauté a few minutes until the fragrance is released and the spices have come alive.
Add onion and tomatoes, stir a few more minutes until onion begins to soften and tomatoes have released some juice.
Add in shredded turkey and stir until well seasoned. Add coconut milk, sweet potato and green beans and continue to stir until everything is golden and lovely. Reduce heat, cover, and let simmer for 20 minutes or until vegetables are fork tender and the meat has taken on the curry flavour.
Serve over chopped spinach for a delicious, satisfying, grain free meal OR serve over rice or with naan bread.