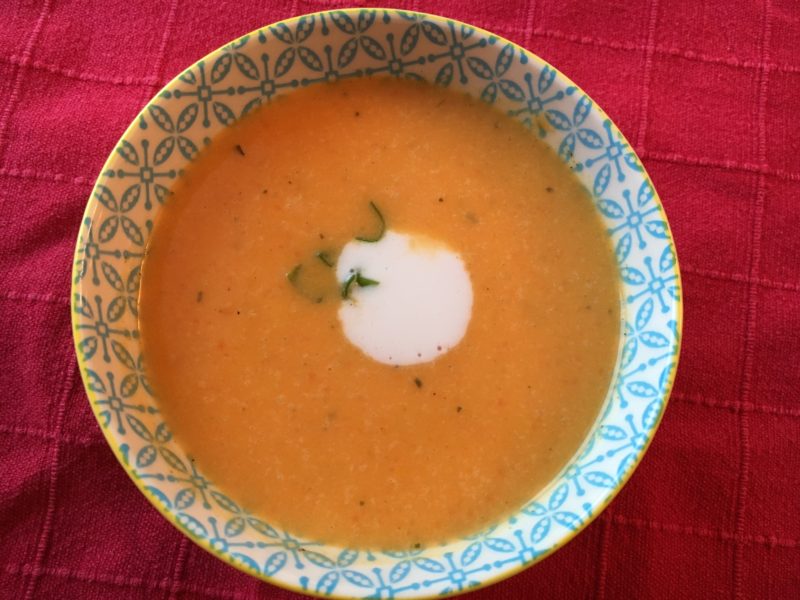 Twisted Thai Sweet Potato Soup
21 October, 2020
by

Deborah Turner-Davis
in

Blog
This is a delicious soup for a light meal or an energizing post-ski refuel snack. Good hot or cold, it incorporates the delicious velvety goodness of sweet potato, smooth coconut and the nuanced flavours of the Twisted Gourmet Twisted Thai seasoning blend.
Ingredients:
2 medium sweet potato, peeled & cubed
1 small carrot, cubed
1/2 medium onion
1 clove garlic, minced
1 tsp fresh ginger, grated
1 tbsp coconut oil
1 tbsp Twisted Gourmet Twisted Thai seasoning blend
1 carton (900 ml) sodium-free chicken stock (substitute vegetable stock if preferred)
1/2-1 can of full fat coconut milk, to taste
1 lime
2 tsp raw cane sugar
Method:
In a good sized stock pot or cast iron dutch oven, heat coconut oil over medium heat. Sauté onion 'til it begins to soften. Add garlic and ginger, sautéing another minute or two.
Add the Twisted Gourmet Twisted Thai seasoning blend to pan, stirring to warm and release fragrance. Add sweet potato and carrot cubes, then add the stock. Simmer for 20-30 minutes until vegetables are soft and cooked through.
Remove from heat. Use an immersion blender, or carefully transfer hot soup into blender, processing until the soup is smooth. Add coconut milk - less or more, depending on your thickness preference and dietary concerns. Juice the lime and add it along with the sugar. Blend again until all additions are well incorporated.
Serve garnished with coconut milk and lime or green onion. Enjoy! 
Tags:
Category_Recipes>Side Dishes
,
Category_Recipes>Soup
,
Category_Recipes>Vegetables
,
Category_Vegetarian or Meatless Meals
,
coconut
,
curry
,
hearty
,
simple
,
slow cooker
,
soup
,
sweet potato
,
vegetarian
,
warming
,
yam