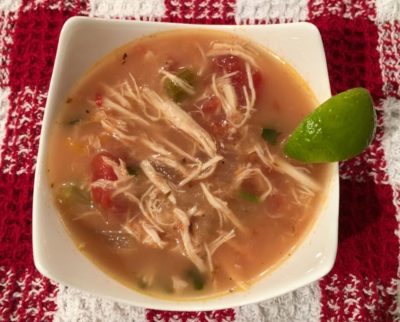 Cheechako Taco Pulled Chicken Soup
21 October, 2020
by

Deborah Turner-Davis
in

Blog
When the weather starts to chill, indulge your tastebuds in this hearty and comforting soup. The flavourful broth is mildy spiced, yet can be further enhanced by adding additional chipotle (to each their own). With the help of your slow-cooker, this soup basically makes itself. Loaded with tender pulled chicken, hearty vegetables and served with cilantro and a squeeze of fresh lime juice, sit back, relax, and eat your heart out.
Ingredients:
2 boneless chicken breasts, skin removed (about 1.5 lbs chicken: ok to use thighs)
1 medium onion, diced
1 large clove garlic, finely minced
1 cup celery, bite sized pieces
1 cup red pepper, bite sized pieces
1 cup yellow pepper, bite sized pieces
1 can diced tomato, no salt added
4 cups good homemade chicken stock or 1 carton (900mL) no salt added chicken stock
*1 chipotle in adobo sauce (optional)
1 cup sweet corn (also optional)
2 Tbsp Twisted Gourmet Cheechako Taco seasoning blend
1/2 cup coconut milk (more or less as desired)
1/2 cup cilantro stems & leaves
juice of 1/2 lime 
Method: 
Place diced vegetables and corn in the bottom of your slow cooker. Layer skinless chicken breast on top. Sprinkle with Twisted Gourmet Cheechako Taco seasoning blend. Pour in tomatoes and liquid from can on top. If desired, add *chipotle pepper. Finally, pour in stock.
Set slow cooker to low heat and cook for 5-6 hours until vegetables are tender and chicken is cooked through.
Turn slow cooker to high. Remove chicken breasts from the crock. On a plate or cutting board, shred the meat with two forks. Add the meat back to the slow cooker with coconut milk. Replace lid and continue to cook for another 15 minutes or until everything is heated through again.
Add fresh lime juice and cilantro and serve with a wedge of lime. Enjoy!!
*I usually open a can of chipotles in adobo sauce and freeze what I don't need, or store in a jar in the fridge. Sometimes I freeze individual peppers in an ice cube tray so it's easy to pop one little chipotle into a recipe for punch.