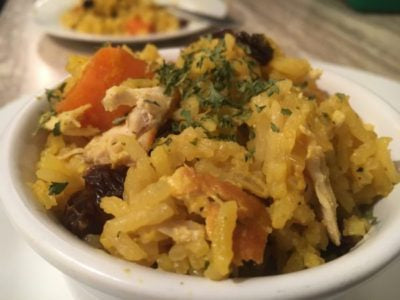 Hello Morocco! One Dish Chicken & Rice Dinner
21 October, 2020
by

Deborah Turner-Davis
in

Blog
My travels in Morocco were filled with delicious flavours, intricate spices and aromatic dishes. After returning home, I longed for the meals I consumed, and began replicating and recreating what I could. This One Dish Chicken & Rice Dinner features sweetness from raisins and brown sugar, and a diverse flavour palate from the saffron, turmeric, and preserved lemon in the Hello Morocco! seasoning blend. Indulge and transport your tastebuds in only 45 minutes. 
Ingredients:
3 onions, sliced thinly
1 large clove garlic, minced
1 tbsp brown sugar
1 1/5 cups long grain white rice
1 tbsp freshly grated ginger
3 cups low sodium chicken stock
1/2 tsp salt
3 medium carrots, thickly sliced
2 tbsp olive oil
1/2 cup sultana raisins
2 tbsp Twisted Gourmet Hello Morocco! seasoning blend
1lb chicken breasts or thighs, skin on or off
chopped fresh cilantro for serving
 Method:
Preheat oven to 350 celsius F. Pat chicken dry and salt lightly. On stove top, heat oil in oven-safe dutch oven over medium-high heat.
Place chicken (skin side down if using chicken with skin). Cook until browned on one side, about 6-8 minutes. Transfer chicken to plate and pour off excess fat from pan.
Add onions and sugar and sauté until rich brown, stirring often. Add salt, ginger, garlic and Hello Morocco! seasoning blend. Sauté for a few moments, until the scent releases (let spices bloom). Add stock and rice, and return chicken to pan, browned side up.
Cover and place in centre of oven. Set timer for 10 minutes. After 10 minutes, add carrots, place back in oven, and set timer for 20 minutes. Remove pot from oven.
Remove chicken - add raisins to pot & cover. Shred chicken on a cutting board,  removing skin & bones. Fluff rice with a fork, return the chicken to the pot and let stand covered about 5 minutes while chicken returns to heat.
Serve topped with chopped cilantro.
Tags:
casserole
,
chicken
,
company
,
date night
,
dinner
,
easy
,
exotic
,
Moroccan
,
one dish
,
quick
,
rice
,
special
,
tagine