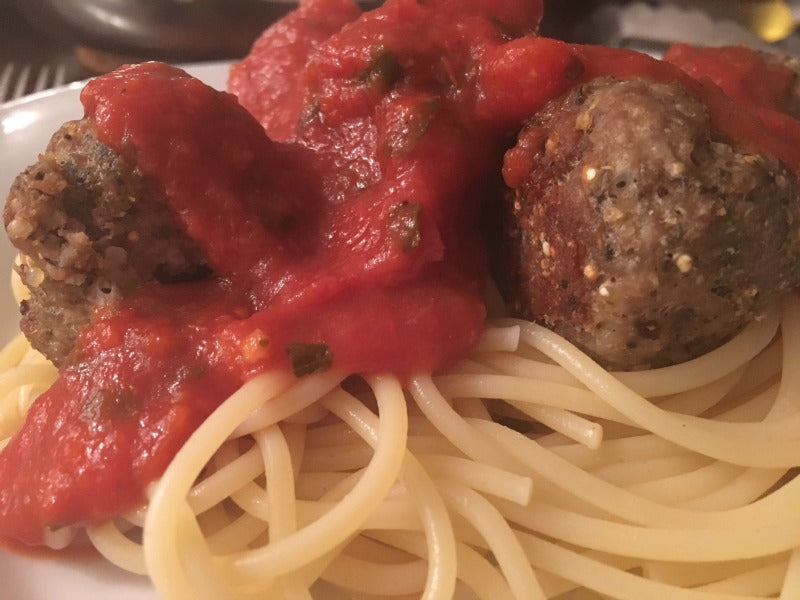 Twisted Gourmet Wild Italian Turkey Meatballs
21 October, 2020
by

Deborah Turner-Davis
in

Blog
Shhhh... you don't have to tell anybody they're healthy! These delicious meatballs can stand up to their beefier cousins any day. Low in fat, high in protein (EXTRA high in protein), they're a delicious staple you'll make often. Try them in a meatball sub or in the perennial favourite, Spaghetti and Meatballs.
Ingredients:
1lb ground turkey (could substitute ground chicken)
1/4 cup quinoa (substitute with breadcrumbs, panko, crushed crackers... your choice)
1-2 tbsp safflower or other neutral oil
1.5 tbsp The Twisted Gourmet Grey Mountain Wild Italian seasoning blend 
2 tsp dried chives
2 tbsp liquid egg white or fresh egg white (can be omitted if desired)
Method:
Preheat oven to 375 degrees F. Toast quinoa in a dry pan over medium high heat for 5 minutes or until golden and fragrant, stirring frequently. Grind in a coffee grinder, food processor or with a mortar & pestle. If you don't have either, crush with the bottom of a heavy flat bottomed drinking glass.
Stir The Twisted Gourmet Grey Mountain Wild Italian seasoning blend and dried chives into crushed quinoa in medium sized bowl. Add ground turkey and egg white. Using hands, combine all ingredients until well blended.
Form into 1 inch balls. Heat oven proof pan over medium high heat, add oil. When oil is sizzle hot, add meatballs. Allow to cook a few minutes, turn once a good sear has been formed. Brown on all sides. Place pan (uncovered) in the oven for 15 minutes or until meatballs are cooked through (no more pink). Remove pan, allow to rest for a few minutes. Serve over spaghetti, on a sub, or as is. Enjoy!