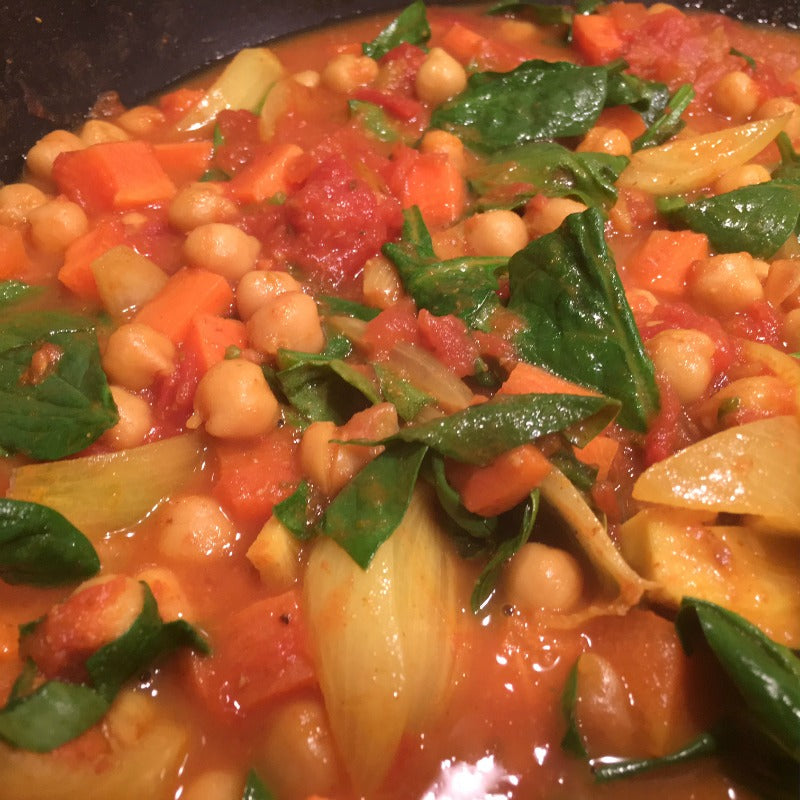 Twisted Chickpea Curry
21 October, 2020
by

Deborah Turner-Davis
in

Blog
Delicious, quick & easy, this nutritious vegetarian dish will make a welcome addition to your meatless Monday rotation. You might even be tempted to cook it again on Thursday... and maybe Sunday. A wonderful thing about this richly flavourful dish is that it somehow tastes even BETTER on the 2nd day. So make sure you make enough for leftovers!
Ingredients:
2 tbsp neutral oil (I use sunflower or safflower oil)
2 tbsp Twisted Curry blend (I use up to 3 tbsp, depending on how spicy I'm feeling)
1 large onion cut in wedges
1 796 ml (28oz) can whole tomatoes with liquid
1 large or 2 medium carrots, diced
1 540 ml (19oz) can chick peas, well rinsed & drained
1 cup coconut milk or coconut cream
1 cup chopped fresh spinach
Method:
Heat a large pan or wok to medium high heat. Add oil and heat a few moments. Add the Twisted Curry blend; fry the spice in the oil for about 2-3 minutes or until it becomes quite aromatic.
Add onion to pan and sauté until the onion just begins to soften and release moisture. Gradually add the tomatoes, mashing somewhat with the back of a spoon. Keep some large chunks of tomato but allow some to be quite pulverized to thicken the sauce. Add diced carrots & chick peas. Cover, reduce heat to medium low and allow to simmer for 20-30 minutes, or until carrots are soft.
Add spinach and coconut milk (more or less to taste; if you find the curry too spicy or too strong, a bit more coconut milk will smooth it).
Serve with rice, chapatis or warm naan bread if you wish, but it makes a wonderful hearty meal on its own and trust me when I say you're going to like the leftovers even better tomorrow!