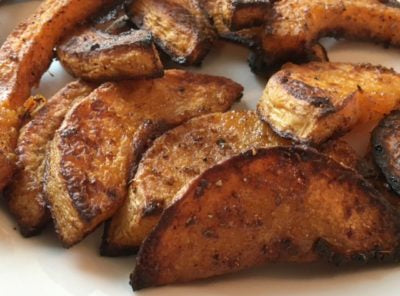 Twisted 7 Maple Roasted Butternut Squash
21 October, 2020
by

Deborah Turner-Davis
in

Blog
Hooray for squash season! As soon as the weather starts to turn a bit, I put my oven on and start roasting all the veggies. What I love about roasted squash is how versatile it is. Blend into a soup, toss on your favourite bowl, eat as a side, or just as a snack. Yummy maple syrup adds a touch of sweetness, while the Twisted 7 Asian spice blend provides a warm flavour from the cinnamon and fennel. Delish!
Ingredients:
1 butternut squash
3/4 tsp Twisted 7 Asian spice blend
2 tbsp butter
1 tbsp maple syrup
 Method:
Preheat oven to 425 degrees F. Peel squash with a vegetable peeler. Slice in half lengthwise and remove seeds. Lay squash flat side down and cut into 1/2 inch slices.
Combine butter, syrup & Twisted 7 Asian spice blend in a microwaveable bowl and heat until butter is melted. Add sliced squash to bowl with butter seasoning mixture and toss until well coated. Place in a single layer on a foiled baking sheet. Bake for 20-25 minutes until tender and caramelized, turning once.
Serve with fresh cracked pepper. Enjoy!
Tags:
5 spice
,
Asian
,
butternut squash
,
Category_Recipes>Side Dishes
,
Category_Recipes>Vegetables
,
delicious chicken
,
easy
,
healthy
,
recipe
,
roasted
,
side dish
,
spice
,
Twisted Gourmet
,
vegetable
,
vegetarian